Immersive,

Interactive

Museum

Experiences

Are

Here

to

Stay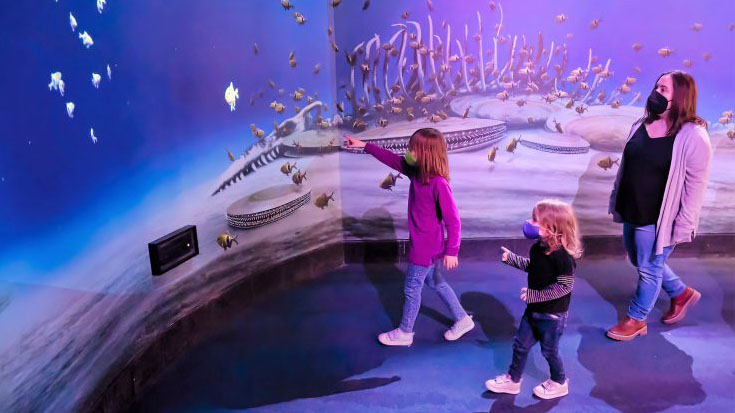 Step forward—now backward. Wave your hand, then pinch your fingers.
Now—jump!
No, it's not the latest TikTok craze; it's just some of the ways museum goers are navigating the latest variety of immersive, interactive museum exhibits that are making headlines around the world.
The Museum Industry Has Changed, For Good.
Today's museums compete not only with other museums, but with a wide array of entertainment and education options, including ones that did not exist until recently.
Over the past couple of years, consumers spending a majority of their time indoors due to the COVID-19 pandemic were forced to seek out new forms of entertainment and education. They took classes, watched documentaries, live streamed, baked sourdough bread, and connected with people around the globe, all from the comfort of their home offices, kitchens, and La-Z-Boy™ chairs.
At the same time, virtual reality, augmented reality, and new gaming technologies exploded into the mainstream. These technologies opened up vast new worlds of exploration, experience, and interaction, providing a million ways to spend one's time and money without ever leaving the house.
Add to this a heavy dose of COVID-induced fear of the outside world, crowds, and—yikes!—germs, and the result has been a permanent shift in consumer habits and expectations.
In fact, museums saw a 70 percent drop in attendance on average during the pandemic, and a 40 to 60 percent decline in revenue compared to 2019, according to a recent UNESCO report based on data from 104,000 museums.
So the question for the museum industry has become…
How can museums compete with new tech and home entertainment options?
Well, as the saying goes, if you can't beat 'em, join 'em—and that's exactly what today's savviest museums are doing—by using immersive and interactive technologies to offer experiences museum goers can't get at home.
What are the Benefits of immersive and interactive museum experiences?
Create entirely new forms of entertaining and educational exhibits
Complement and future-proof your existing museum exhibits by bringing stagnant displays to life
Give museum exhibition designers, educators, and curators new tools so that they are limited only by their imagination.
Engage with visitors in a physical way, while also engaging their imagination—thereby making their experience incredibly memorable.
Blur the lines between education and entertainment
Entice visitors to visit, return, and feel safe doing so
The past few years have witnessed the emergence of major museum exhibits devoted entirely to immersive experiences.
New technologies like augmented reality, projection mapping, and contactless touchpoints have enabled these institutions to provide interactive experiences visitors simply cannot get at home—all within a safe environment.
(Note: Shared virtual reality hardware can convey germs, so we are omitting VR from this article).
The "Immersive Van Gogh" exhibit is one well known example. The exhibit, which charges up to $50 per ticket, is estimated to have sold about 4.5 million tickets, which translates into roughly $250 million in revenue—not including $30 million in ancillary gift-shop revenue.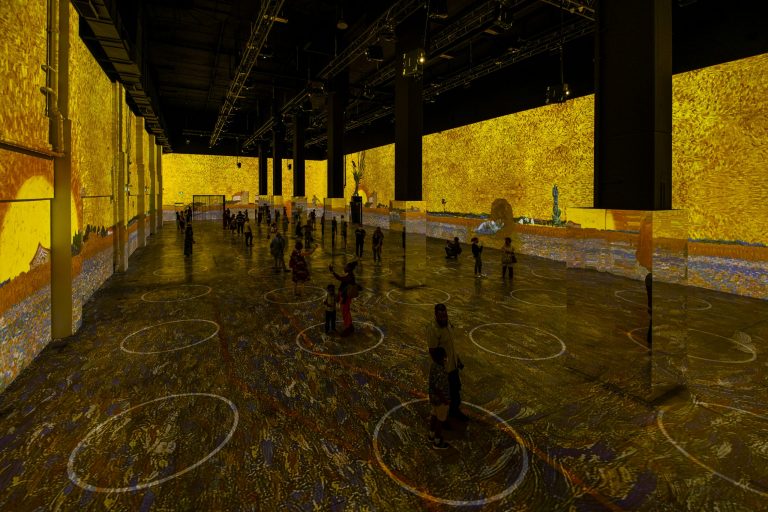 The "Immersive Van Gogh" exhibit
At this point, you may be saying, "That's great for new exhibits but…"
How can established museums future-proof existing exhibits and infrastructure investments?
We get it; your museum wasn't built yesterday and you're not about to throw the proverbial "baby out with the bathwater" by starting over from scratch, particularly after a rough couple of years.
The good news is, you don't have to.
As institutions like The Children's Museum of Indianapolis (the largest children's museum in the country) and others have shown, it's quite possible to incorporate technology in a way that complements existing exhibits and improves the visitor experience, all while reaping the full value of existing capital investments.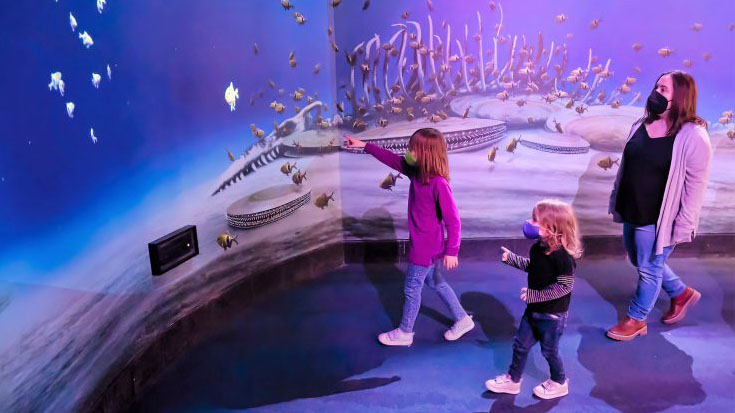 The Optic Sky Immersive, Interactive Experience at The Children's Museum of Indianapolis
For its latest "Dinosphere" exhibit, The Children's Museum of Indianapolis partnered with Optic Sky to create an immersive, Mesozoic era, marine interactive experience that digitally extends a mural painted by renowned paleo-artist Bob Nicholls.
When triggered by motion, a school of Mesozoic fish within the expansive mural "comes to life" to surprise and delight visitors, tracking attendees and reacting to their movements as they walk past, with one curious fish in particular following visitors around as they interact with it.
Without touching a thing, visitors are able to interact with the exhibit and feel transported to the Jurassic period, a time when giants roamed the Earth.
'Touchless' Museum Interactions Replace Touchscreens
Touchscreens form the basis of interactive experiences in almost every facet of our lives, from fast food chains to supermarket checkout machines and Square™ POS terminals. In fact, we've been living in an increasingly touch-crazed world ever since the iPhone showed us that there was a more intuitive way to interact with our devices.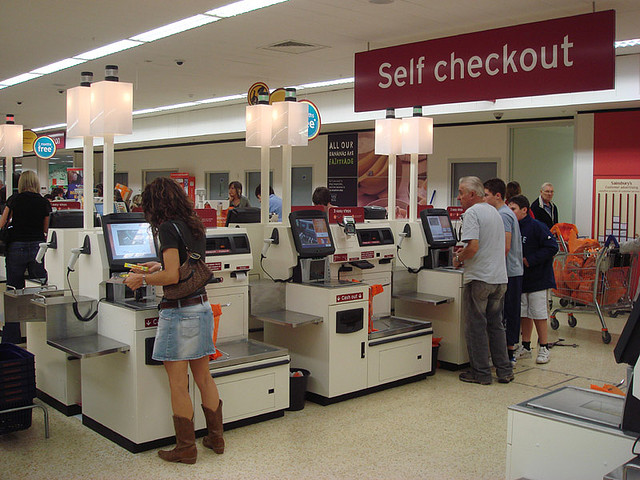 Since 2020, however, touchscreens have come under intense scrutiny.
For example, Target was forced to place protective plastic sheets over their self-checkout locations because cleaning spray couldn't be directly sprayed onto the device. And museums now must have hand sanitizer stations splattered across exhibits to provide the opportunity to cleanse after every interaction.
Thankfully, there are new and better ways for customers to interact than touchscreens.
In fact, museums across the globe are increasingly tossing out their touchscreens and hand sanitizer stations in favor of "touchless" immersive and interactive technology.
(OK… the hand sanitizer stations are going to stick around for a while).
But a multitude of immersive and interactive technologies have come into existence that are both affordable and accessible—and with these, museums can create interesting, memorable and fun experiences built for a post-pandemic world.
For example, the Ultraleap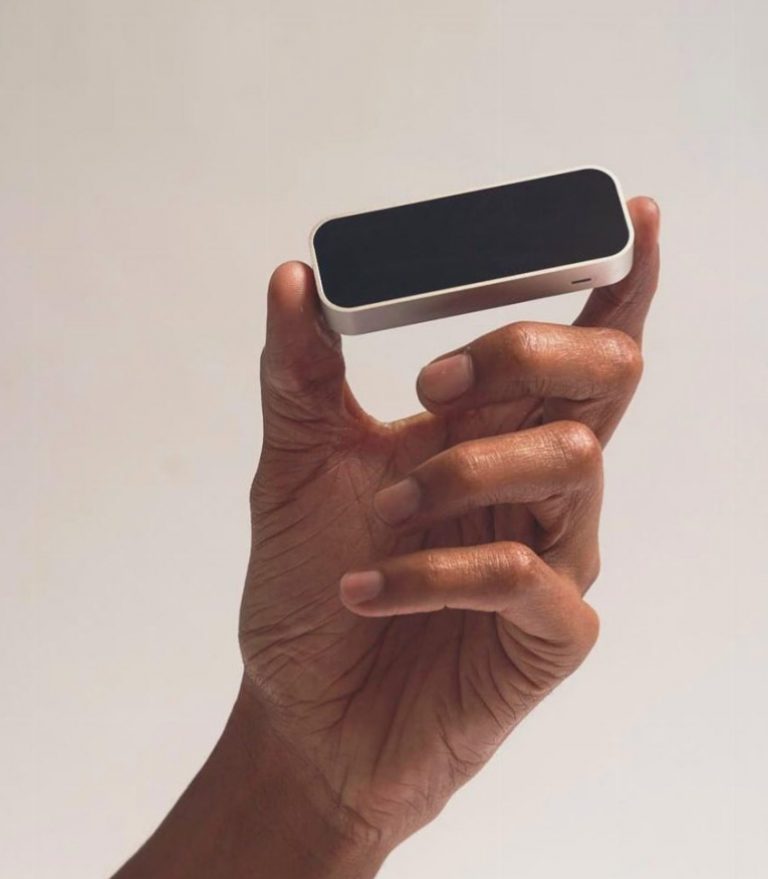 The Ultraleap
The Ultraleap is a small device in the shape of a bar, roughly the size of an Almond Joy, that can be used to track your hands without the need to touch anything. Interacting with digital elements is seamless and easy, and the device is small enough to hide almost anywhere.
The Ultraleap adds touchless interaction to any in-person museum experience. Whether swiping through options, controlling a virtual robot with your hands, or stacking virtual blocks, the Ultraleap's dedicated hand tracking capabilities can elevate experiences far beyond the touchscreen norm.
The Xbox Kinect V2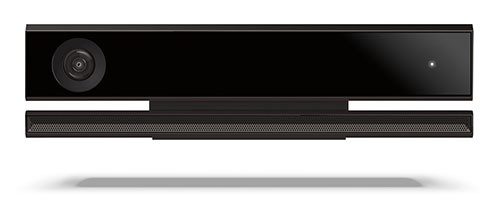 Xbox Kinect V2
On sale for just $40 dollars USD, the Xbox Kinect V2 is probably the most inexpensive way to turn everyday museum experiences into magical experiences.

Don't let that low price tag fool you; the Kinect V2 can track up to six bodies at once, provide skeletal and face tracking, and includes a multitude of sensors to ensure accuracy.
In fact, Optic Sky utilized the Kinect V2 to bring natural interaction to the virtual school of Mezozoic fish mentioned above. Of course, the project required custom programming and graphics, but the hardware was incredibly inexpensive.
If you are looking to create your own experience, without the presence of an external software tracking solution, the Kinect V2 might be right for you.
Projection Mapping Museum Experiences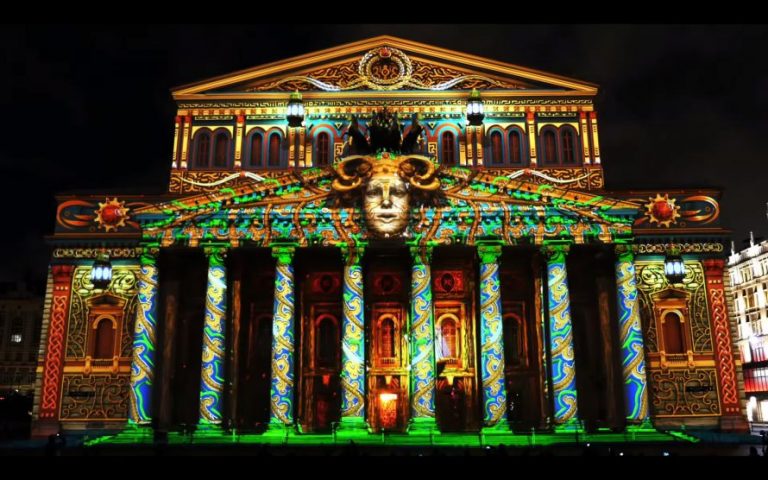 Projection mapping adds color and movement to the National Museum of Art Bucharest
Projection mapping is a fantastic way to extend the value of existing museum exhibits. Used famously to create the Van Gogh Experience mentioned above and many other hit attractions, projection mapping has offered a lifeline to museums throughout the pandemic.
It's also become one of the best ways to complement existing museum exhibits by bringing them to life right in front of visitors' eyes in an immersive manner.
Augmented Reality Using Snap Kit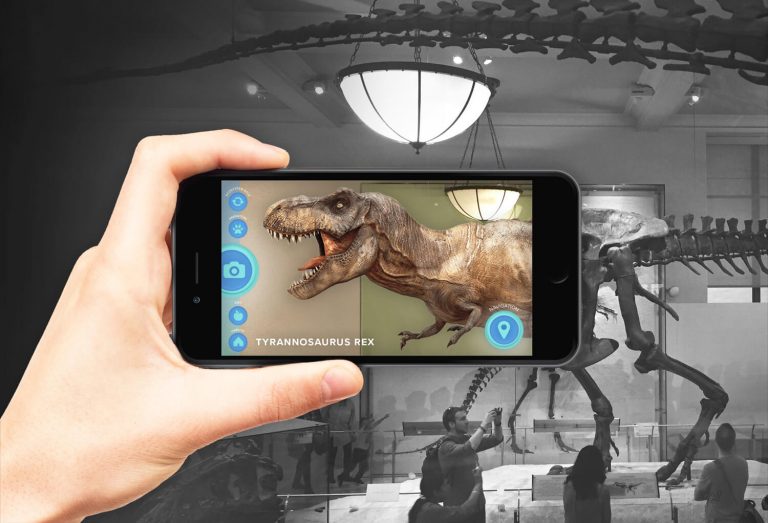 Augmented reality museum experience
You have probably heard of Snapchat. You probably also know it is one of the most popular apps on the App Store and has exploded from its early days as a photo sharing app to an augmented reality powerhouse today.
But did you know that you can leverage its augmented reality capabilities outside of Snapchat?
That's right, you can integrate Snap's ever-increasing AR capabilities into your own museum app. Things like skeletal and hand tracking, AR face filters, and target recognition are no longer out of reach for the average museum and can be used to engage visitors without a touch screen.
Wherever virtual elements must react to peoples' movements, your museum can make it happen within your very own app using Snap Kit—thereby allowing visitors to use their own mobile phones to interact with your augmented reality exhibits in a Covid-safe manner.
The Future of Museum Experiences
Although touchscreens are still well suited to certain purposes, they are not the sort of experience that will carry museums into the future.
Rather, it is fewer physical touch points and more immersive and 'touchless' interactive experiences that will make the real difference, both in terms of visitor satisfaction and the bottom line.
These technologies are readily available to future-proof museum exhibits and provide a COVID-conscious future of meaningful interaction.
To learn how your museum can implement immersive and interactive experiences, sign up for our newsletter, here.